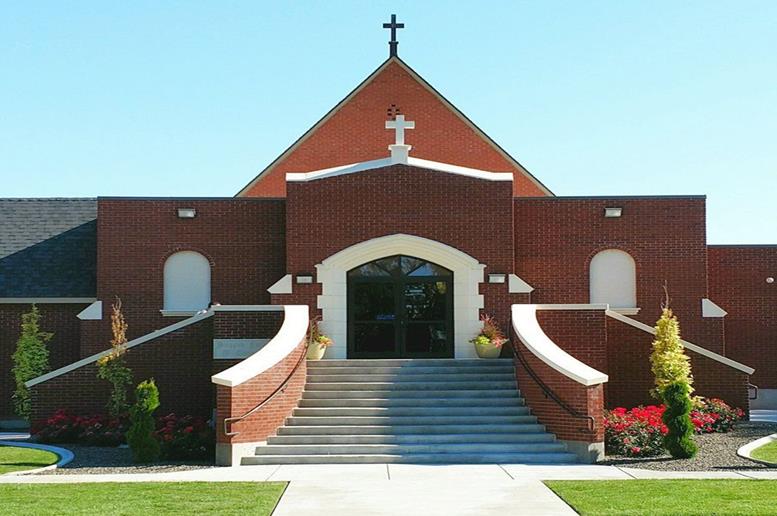 B

efore the year 1900, there is no official record of any priest in this area. There were some vague statements of some of the older inhabitants that a priest visited the area before that time who would occasionally say Mass in a home. As the French Canadian trappers in this area in the 1800's were Catholic, priests would travel through here to minister to them from time to time. There is a record in the Diocese of Boise that in 1862 a priest performed the wedding ceremony of the grand daughter of Francois Payette at Old Fort Boise on the Snake River near Parma, Idaho. In the early 1900's, there was also a railroad Chapel Car that would pass through Ontario occasionally where the priest on board would say Mass.
The first resident Pastor of Ontario was Father A.H. Servais who was appointed in 1900. He remained for one year and was succeeded by Father H.A. Kremers. The Parish records show that he administered to the needs of the faithful in Malheur, Harney, and Grant Counties, although no records exist as to how his work was scheduled. After the creation of the Diocese of Baker City in 1903, Rt. Rev. Bishop O'Reilly appointed Rev. L.D. Guillaume to Ontario and Malheur County. Father O.D. Hynes succeeded Fr. Guillaume as the resident Pastor on September 11, 1906.
With attendance at Mass increasing, Father Hynes saw an opportunity to have a parish church built and invited Bishop O'Reilly to visit Ontario in late September of that year. On this visit, the Bishop purchased lots in the 500 block between SW 3rd and 4th Avenues in Ontario (Red Apple Market now occupies this block) for the future site of Blessed Sacrament Church. Parishioners even had concrete poured for the foundation. During this entire time from 1906, parishioners Frank and Daisy Rader felt it a privilege to have the resident priest stay with them and say Masses in their home for the Catholics who lived in Ontario and the surrounding area.
Also in 1906, four Sisters of the Perpetual Rosary arrived in Ontario. They rented a large house on the outskirts of Ontario (near the current TVCC campus) and had a small chapel built. Father Hynes said Mass on a regular basis in this chapel.
In October of 1908, Father Hynes was granted a leave of absence because of ill health and Father P.J. O'Rourke was transferred from Wallowa to Ontario. Father M. Aalders succeeded Father O'Rourke when the latter was transferred to Condon on May 14, 1909. When Father Aalders was transferred to LaGrande July 1, 1909, Ontario was without a resident pastor, but was fortunate to have Father Thomas Cantwell travel from Huntington periodically to say Mass for the faithful. After Father Cantwell was transferred to Kingsley in January of 1910, Father H.A. Campo (Anona Shupe's great uncle) took charge of Malheur County, including Ontario, Vale and Brogan. Up to that time, Father Campo had resided in Baker City and served as Secretary to Bishop O'Reilly and Chancellor of the Diocese of Baker City. On the Sundays when Father Campo said Mass in Ontario, he used the Odd Fellows Hall for the services.
Before and Early 1900 ...