The Very Reverend Francis P. Leipzig, pastor of St. Mary's Church, Eugene, was selected as the third Bishop of Baker. Upon the arrival of Bishop Leipzig in the diocese, there were 23 parishes, 37 priests, and 15,065 Catholics in the Diocese of Baker.
On May 6, 1951, the new Blessed Sacrament Church was dedicated by the Most Reverend Francis P. Leipzig, the first church in the diocese to be dedicated by the new Bishop of Baker.
On April 20, 1951, Ontario assistant pastor Father M. J. Quigley was transferred to The Dalles, and Father P. J. Lunham appointed to take his place in the interim. On September 5, Father Aloysius J. Hankinson came to Ontario as assistant pastor. In October of 1951, Father Rembert Ahles was installed as the first pastor of the Nyssa parish. The Jordan Valley mission was attached at that time to Nyssa.
Rev. Francis McCormack was appointed by the Bishop on September 1, 1955 to succeed Fr. Gaire as pastor of Blessed Sacrament. Father McCormack was born in Ireland and completed his early training at St. Mel's College, Longford, Ireland. He did his philosophy and theology courses at St. Peter's Seminary in Wexford, Ireland. He was ordained in June of 1939. Before coming to Ontario, Fr. McCormack served as assistant to the Bishop in Baker, and as pastor of St. Patrick's Church in Heppner for fifteen years. During the time he was in Ontario, additional property was obtained for building a parochial school. In 1956, Mrs. Hugh (Julia) Sloan donated the house and property adjacent to the church which provided a residence in the late 1950's for two Dominican Sisters. The sisters, Sr. M. Thomas O. P. and Sr. Cor Marie O. P., supervised the religious education program in the parish, and taught a kindergarten class in the basement of the church.
On April 17, 1961, a High Mass was celebrated at Blessed Sacrament Church on the Golden Jubilee of the dedication of the first Catholic Church in Ontario. The officers of the Mass were: Celebrant---Most Reverend Francis P. Leipzig; Assistant Priest, Rev. Michael F. Ahearne; Deacon, Rev. Francis McCormack; Sub Deacon, Very Rev. Patrick J. Gaire; Deacons of Honor, Rev. Peter Duignan and Rev. Martin Quigley; Master of Ceremonies, Rev. John Baumgartner; Assistant Master of Ceremonies, Rev. Patrick Lunham; and, Sermon, Rev. Joseph B. Hayes. At this Mass, the high school students gave a short history of the parish and the Catholic Church in Eastern Oregon.
In 1962, Fr. Gaire's earlier plan of utilizing church property for a Catholic school began to take shape. Four brick classrooms with an office and storage areas were built just off 9th street between Idaho Avenue and the Sloan house. For the next seventeen years, these classrooms were utilized for CCD classes.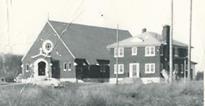 .
.
.
.
.
.
.
.
.
.
.
.
.
.
.
.
.
.
.
..
.
.
.
.
.
.
..
.